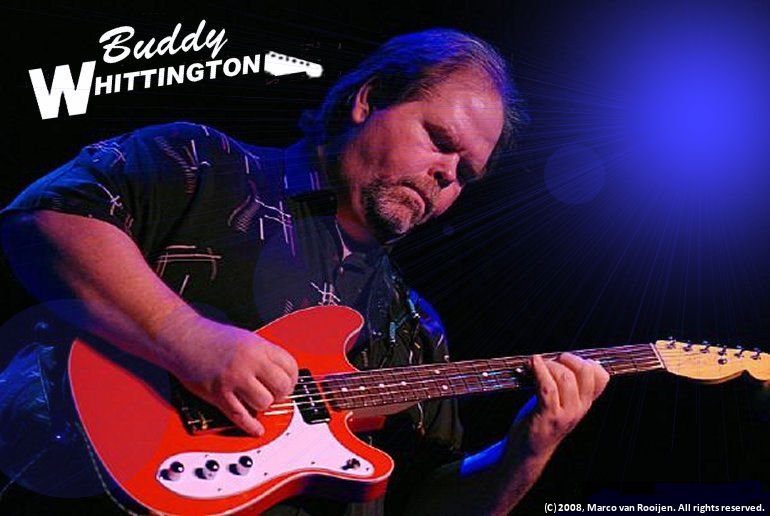 A lifelong Texan, Buddy Whittington 'entered the arena' on December 28, 1956, in Fort Worth, and became enamored of the electric guitar like countless kids of his vintage shortly thereafter, who were mesmerized at the reality that 'you plucked a string...'here', and the sound came out...'over THERE.'
Though no other family members played an instrument, there was always music in the home, be it emanating from the TV on Saturday evenings ('Cowtown Jamboree' and Big 'D' Jamboree were locally produced live weekly shows featuring top name country artists of the day) AM radio also featured prominently, with KXOL, KFJZ, KLIF, KKDA, WBAP, WRR and KNOK providing a wide variety of sounds and styles to open and expand a young would-be musician's ears long before the advent of 'Underground' Album Rock Radio stations like KFAD and KNUS, KTXQ 'Q102' and KZEW 'The Zoo' 98 FM.
Western Swing music also played a part, as Mr. and Mrs. Whittington were big fans of Bob Wills and the Texas Playboys. Probably the biggest influence in young Bud's musical makeup was the record collection of his big sister, encompassing everything from British Invasion bands to R&B hits of the day, Elvis, Buddy Holly, Beatles, Stones, The Who, The Yardbirds, John Mayall's Bluesbreakers to 'The Temps and The Tops', Gary 'U.S.' Bond, Jimmy Reed, and Slim Harpo.
A succession of fledgling musical efforts with varying degrees of success ensued, culminating in an offer by John Mayall to join The Bluesbreakers in 1993.
"The band I was in at the time, 'The Sidemen', had a good friend in Mr. Jerry Thompson, who these days is President of Promoterline Inc., but back then was managing the Dallas Alley complex, where he would book us as the opening act on any number of outdoor events and shows, and we were booked as the opener for a Bluesbreakers' show.... Mr. Mayall asked me for my contact info, we stayed loosely in touch for the next two years, and when then-Bluesbreakers guitarist Coco Montoya decided it was time to hit the highway on his own, I 'received the call' and appeared on countless Mayall shows and recordings worldwide for the 15 years between 1993 and 2008, at which time the existing Bluesbreakers were 'kicked out of the nest' and the band was reformed by Mayall."
Buddy's self-titled solo CD appeared in 2007, and has garnered very favorable reviews and considerable airplay. The CD, recorded at Hurricane Sound in Garland, Texas by engineer / producer / drummer / 'ubertalentedmultiinstrumentalist' Mike Gage, features performances by Gage, longtime bassist Wayne Six, co-guitarist Michael 'Mouse' Mayes, and this configuration makes up the core of the current working band. 'We can play just about anything we need to between us, as we have all 'played in different bands together' for years, and really enjoy working with each other.' says Bud, who is currently writing songs for his second solo outing.
What Is And What Should Never Be - Performed by Buddy Whittington & Mouse Mayes at the 2016 Dallas International Guitar Show 08
Day 2 4-30-16
Buddy Whittington (Guitar & Vocals), Mouse Mayes (Guitar & Vocals), Wayne Sixx (Bass), Mike Gage (Drums)
-------------------------------
Buddy Whittington
The sounds from the golden era of electric blues are coming out of the 1963 Stratocaster that veteran bluesman Buddy Whittington is playing right now, today. You can feel his heavy southern rock influences with every note his guitar sings. The great Buddy Whittington is one of the most remarkable guitar players from the south, and has been part of legendary acts, the most notable being John Mayall's Bluesbreakers, as well as with his own group, The Sidemen.
Music was an important part of his life since childhood: being around radio and TV shows that featured many famous country artists of that time, Buddy was expanding his mind with a wide variety of musical influences. He even drew from western swing music thanks to his parents, big fans of Bob Wills and The Texas Playboys, as well as from his sister's wide-ranging rock and roll collection which contained music from Elvis, Buddy Holly, British invasion bands and classic rhythm and blues greats.
Buddy has been an active guitar player since he was a teenager, being part of bands like Short Change, which became an opening act for a band he would later join: Point Blank, another popular southern rock act from Texas with hits like 1981's, Nicole. His guitar playing style took him towards different grades of success during the following years after having the opportunity to join the Bluesbreakers.
It was thanks to the efforts of Jerry Thompson, the former manager of the Dallas Alley complex, that Buddy Whittington got to play with the Bluesbreakers. Buddy's personal project, The Sidemen, was booked several times to play as an opening for John Mayall, and when guitarist Coco Montoya decided to pursue a solo career in 1993, John asked for Buddy's contact information and the rest is history. That was the beginning of a 15 year musical relationship in which Buddy was part of the band he admired as a teenager.
There are some remarkable tracks from Buddy and the Bluesbreakers that are worth mentioning: Blues For The Lost Days, Padlock on the Blues, Tough Times Ahead, Along for the Ride and The Mists of Time. Buddy's playing style is a combination of classic blues rock and the steady beat of southern rock, adding a singular flavor to his own musical personality, in which he has also found his own voice as a songwriter! But clearly, Buddy's loyalty and heart will always remain with the blues.
He has released two solo albums: Buddy Whittington (2007) and Six String Svengali (2011).
—————————————
Please leave a comment below with your thoughts.
If you found this video interesting, give it a like.
If you know someone who would love to see this video, share it.
Add this video to a playlist if you would like to watch it later.
Check Out That's Live TV's YouTube Channel
https://www.youtube.com/c/ThatsLiveTV...
Check Out That's Live TV's Network Website
http://www.thatslivetv.com
Please Share This Video
http://www.thatslivetv.com/videos/wha...
Like That's Live TV on Facebook
https://www.facebook.com/Thats-Live-T...
Follow That's Live TV on Twitter
https://twitter.com/thatslivetv
Browse Related Videos